From theguardian
Stan Kroenke's recent takeover of Arsenal prompted consternation within the club's fanbase, on account of the billionaire's opaque plans and a track record at his NFL, NBA and Major League Soccer franchises once described by this paper as "abject". However, his sartorial approach is anything but, with his on-trend pinstripe bringing a touch of noir glamour to the Holloway Road. So it's swings and roundabouts.
Kroenke's commitment to the kingpin look is total. As a younger man, he favoured a brown suit with thick chalkstripe. Coupled with an equally widescreen moustache, the top button of his shirt left raffishly undone, he cut a mobster dash straight out of the prohibition era. It's easy to picture him hovering by an art-deco lamp, quietly brooding, rolling a ball of single malt around a crystal tumbler.
As he matured, Kroenke modified his style accordingly. The cloth got a little darker, the pinstripe thinner, and he incorporated a bright buttonhole that demanded attention. The effect was as old-school as the shiny brass buttons on erstwhile Gunners boss George Graham's golf-club blazer with shades of the hapless Wacky Races hoodlums regularly rescued by Penelope Pitstop, or Don Ameche in Trading Places, had Trading Places been directed by Scorsese.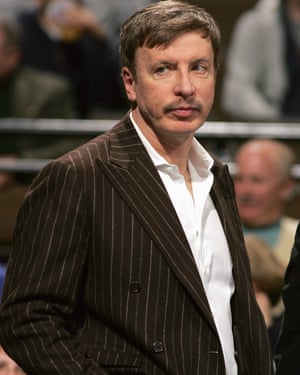 Kroenke also harbours a taste for terrifyingly fashionable double-breasted suits – as featured in Kim Jones's final show for Louis Vuitton – with lapels so brazenly wide they'd make Jimmy Cagney look like a new-wave hipster. Alongside a penchant for pairing his outfits with trenchcoat and black-out shades, this sends an implicit but unambiguous message: no more AGMs now Arsenal are a private concern, wise guy.
None of this screams responsible corporate governance or competent crisis management. Yet Arsenal fans need not dwell on this too much. Kroenke is far from the first major football figure to rock an Edward G Robinson style. And historical precedent trumps the symbolism.
Howard Wilkinson, who occasionally draped himself in pimps' pinstripe, is still the last English manager to win the league, with Leeds in 1992. Jack Tinn, who led Portsmouth to the 1939 FA Cup, wore gangsters' spats to every match of his team's successful run (Tinn considered the accoutrements so lucky he hid them in the club safe during the war).
Then there was hot-shot Hughie Gallacher, who during his days at Chelsea would don a chalkstripe three-piece while drinking on the King's Road. One Friday in 1933, he was sent sailing through some saloon doors and into the gutter, after bumpimg into two Leeds players out for an afternoon constitutional. The day after, Chelsea tonked Leeds 6-0, Gallacher scoring one and setting up another two. It's a time-honoured soccer style, albeit one that enjoyed its heyday in the 30s. But then again, so did Arsenal. If you believe in fashion-related omens, Kroenke might, despite the naysayers, be doing the Gunners a turn.