From theguardian
I don't know why people like the pictures I take. It's not my job to say. But I do know that over the last 18 months I have been working with fashion brands more than ever before, even though I am not a fashion photographer and I know nothing about fashion. That's probably an advantage: I'm not copying whatever the latest trend might be. I just use my own language.
When you work with a fashion brand, you are pursuing someone else's agenda – that's why you are paid, that's how the system works. These products are generally very expensive, they are not the sort of thing I would buy, but I understand the rules of the game. You have to use your accumulated knowledge and try to make interesting pictures within the parameters, and give it some plausibility.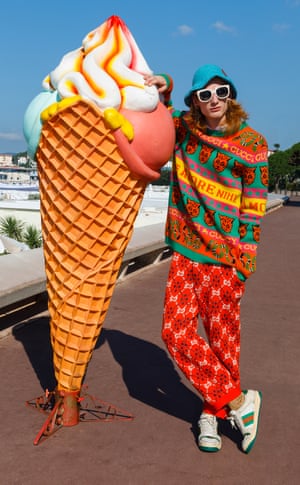 My first fashion commissions came about 30 years ago, from a magazine called Amica. Over the years since then, I have usually done fashion in a very low-profile way. The most interesting projects are often those in which I can use an idea I'd had anyway. Recently, for example, I shot people going to Sainsbury's in their dressing gowns for the British fashion magazine Chaos 69. A few years before I used another idea – about children going to the dentist – with their parents wearing fashion clothes, for Kid's Wear magazine in Germany.
Most recently, I've worked with Gucci. I shot a watch campaign, which launched on Instagram in July, in nine different places around the world, from Tokyo to Hong Kong to LA. I then shot their cruise lookbook in a series of hotels in Cannes. Christopher Simmonds, who art-directed the second shoot, came and had a discussion about a few books of mine and things like that – I was amazed by how well-versed he seemed to be on what I've done.
Clothes can be revealing in photographs: anything ephemeral is interesting because you know how dated it will soon look – I like things that are of now and date badly. But on a personal note I am entirely indifferent to them. It takes me 20 seconds to choose what to wear; I have a very boring wardrobe of checked short-sleeved shirts and chinos or jeans. I bought a designer jumper once, by Paul Smith, which I still get out occasionally. And Gucci gave me a suit, which was very nice. It's blue, it's about as sober as you can get. I wore it to dinner with them in Hong Kong. I'm waiting for the right occasion to wear it again.
If I was going to a party or an opening, I would probably wear a shirt with Robert Mugabe or Barack Obama's face on it. I collect ephemera associated with dictators, so the Mugabe shirt fits that; I had the Obama shirts made up from fabric I bought in Mali. I'm still looking for a Mugabe jacket – I've been searching eBay for 20 years – but now that he's gone, I suspect I'll never get one.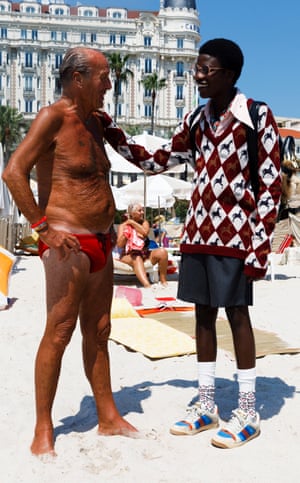 I would say there is sometimes a mischievous edge to my work. I wouldn't necessarily describe it as satirical, although I am trying to illustrate contradictions. In terms of class, I'm pretty democratic, actually. I've covered every class in the UK and I treat them in the same way: I just show things as I find them. Some people immediately assume that I'm out there to take the piss. I don't think it's as simple as that, although that perception hasn't really done me any harm.
I have covered fashion shows quite often as a documentary photographer, over the past 20 years, and they suit me down to the ground. All the well-heeled people, who are, generally speaking, there to show off, are very photogenic and unselfconscious and keen to be photographed. What's not to like?
The atmosphere was completely different at the most recent shows I photographed, however. It won't surprise anyone to hear that all the models were on their phones, locked into their own little worlds. Getting a decent picture of that is quite a challenge. It's funny, because before smartphones were around, the models always seemed to have bananas in their hands, which they would be eating, and which seem to have sort of slipped away. Now they hold their phones instead. I wonder if they give them the same sustenance.
I've been told that authenticity is highly prized in fashion at the moment, and asked whether that's why so many fashion types like my work. Well, that's news to me. I don't go round analysing things like that – it's not what I'm interested in at all. I just do the pictures.