From theguardian
Oscar de la Renta, long the source of gowns for Manhattan's benefit-circuit socialite, is in a new era. Following the death of its founder in 2014, Laura Kim and Fernando Garcia – who worked with de la Renta for 12 years – are now at the helm. On Tuesday at New York fashion week, they showed off their spring/summer 2019 collection. While the weather was foggy, a flower-covered rooftop and acapella soundtrack formed the perfect backdrop to clothes that demanded a better forecast. Luckily for Kim and Garcia, the rain remained at a light drizzle. The sun even threatened to shine as models including Gigi and Bella Hadid completed the finale.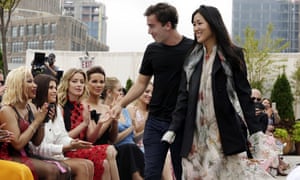 The collection showed a brand in transition – from being the gold standard for classic cocktail dressing to something in tune with the more relaxed way that women increasingly approach their wardrobes. The first section featured kaftans and tunics more appropriate for poolside than cocktail hour, as well as separates like wide-legged trousers and blouses. Flats – not a regular on a de la Renta catwalk – also featured. Kim and Garcia are conscious, however, that they still need to hit that de la Renta look. Hence the gowns. With beading, lace, taffeta volume and fringing, the longtime customer are catered for. Shorter lengths and cutout details gave a less genteel look.
At a preview before the show, the designers explained that holidays in Morocco, Croatia, India and Mykonos inspired the prints, as well as the kaftans and sari-like details. The separates were a conscious shift to appeal to a younger generation, together with higher hemlines. "It's definitely a sexier collection. We are surrounded by people who want to wear sexy clothes," said Garcia. "I feel like there was a lack of leg recently," added Kim. "It's time to bring that back."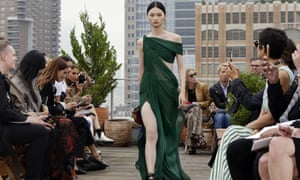 De la Renta might not be the most obvious place to bring the miniskirt back into fashion but this duo – along with chief executive Alex Bolen, de la Renta's son-in-law – see it as part of their mission to gently guide this much-loved Manhattan label into 2018. "We have made the clothes more comfortable, much lighter to travel in," said Kim.
Garcia added: "Even the gowns, you can put it in your bag and go to a wedding … Aesthetic wise, it's never going to be cool, downtown. It's very feminine and all about making her happy and, this time, a bit sexy." .
With price tags that rarely dip below four figures, this is a brand that remains prohibitive for a younger customer – but there is now a more concerted effort for courting them beyond just the show. A handbag advertising campaign was launched this week, using influencers including Camila Coehlo and Aimee Song, for the first time.