From theguardian
What's your most common dream?
That I can't swim, which is weird because I love the water and have been swimming my whole life.
What's the one item you always have with you?
My phone.
Which emoji do you use the most?
This little guy usually does the trick.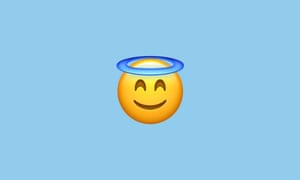 What's the scariest show you have walked?
Not necessarily the scariest, but probably the most nervous I've been was the Versace Tribute show because it was such a huge moment. I also knew the secret that they were going to have all the supers come out and had to hold my tongue the whole time.
What would your superpower be and why?
Transportation – I feel like I'm always travelling.
You've collaborated on a collection with Karl Lagerfeld this month. What's the most memorable thing he's said to you?
He called me his Choupette once, after his cat, which is the biggest compliment coming from him.
What's your favourite slogan T-shirt?
My new favourite is the Karl x Kaia because I never dreamed that would be on a T-shirt. Growing up, I was always obsessed with Grateful Dead merch.
What's a signature Kaia outfit?
Very casual. Jeans or shorts, with a T-shirt and blazer or leather jacket.
Which book has had the most impact on you?
The Power Of Now opened me up to a whole new way of looking at life.
Who is the nicest person you've met in fashion?
I would have to say my mom, Cindy Crawford, because I've been able to spend time with her away from the industry and can say definitively she is a genuine and kind person.
What's your motto?
Live in the moment.
What item do you most want?
A pet snake I can carry everywhere with me!
What's your dream holiday destination?
I've never been to Greece, so I hope to go there soon!
Who do you have most pictures of?
Probably my dogs and my family.
Where's your happy place?
Wherever my family can all be.
What's your signature scent?
Marc Jacobs' Daisy.
Who's the most fun to hang out with backstage?
Everyone's been so nice, but one of my closest friends is Vittoria Ceretti who I met backstage.
Complete this sentence, "In five years' time, I'll be…"
Doing what makes me happy.
What would the Kaia pizza have as toppings?
I'm a simple girl. I usually just add ranch which people get grossed out by but I swear by it.